Doing almost anything for you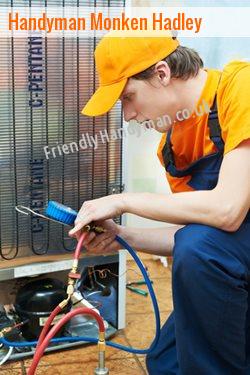 We are Monken Hadley's first choice when it comes to handyman services. Every job that you would require can be excellently handled by our multi-skilled handyman. That is why if you wish to make things done perfectly well, choose our team at Friendly Handyman.
Choosing the best for your convenience and satisfaction?
Offering the most complete domestic services for Monken Hadley, no one would ever have to look much further other than our team. Our EN5 professionals understand your needs better than those other typical service providers. In just one single call, you can have the solutions that you just need for all your residential repairs and maintenance needs.
Why let us do the job?
Quick response
Organised workmanship
Reliable services
Friendly staffs
Efficient solutions
Affordable rates
For a quality job on repairs and maintenance, our handyman is the perfect professional to call. Contact us at 020-3322-6025 and get things done instantly.
Repairs and maintenance made easy
We are always at your service to render quality solutions for all your office errands. Time is very precious to you which the very reason why we always promptly respond to your needs and do things unobtrusively in order not to hurdle your transactions.
When you think you can no longer spare time to fix the damages at your place, our handyman is just right here available to be of any help to you. Anything under the heat of the sun is carried out excellently just for you.
Our fine customer service has always been the number one consideration that our people have in choosing us to be their company. We never disappoint our clients. We have always been the best team to serve every household and commercial entity.
Doing the following electrical works for you: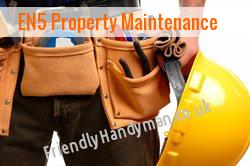 Light fittings
Light bulbs replacement EN5
Extractor fans replacement
Replacement of sockets, switches and transformers
Fault finding
Portable appliance testing
Accommodating anything for you
You can entrust your entire household to our handyman. Everything that needs to be done will be taken care of by our professionals. All their services are truly efficient and give you the best value for your money.
Our handyman services offer a complete array of on-site facility maintenance and other services. We take pride for the skills and quality workmanship that we are able to provide Monken Hadley all throughout these years. By delivering the right services, no one would certainly have second thoughts of having us to work for them.
No matter if you require a small or a medium sized job, our fully licensed and insured handymen can help you get things done just for you. We have years of experience to prove that all our jobs are done at the highest possible standards.
Monken Hadley Property Maintenance - Call 020-3322-6025.
Handyman Services East Central London, DIY expert Lavender Hill minor renovations Handymen Engineers W10 SE26 Reliable Handyman Leyton Marshes E10 Friendly Handyman.
For you, we will resolve all your domestic and commercial problems as quickly as possible. We do not want to keep you waiting all day. With us, you will always have the convenience that you deserve.
Cannot find the exact service you would like us to do for you? Please do not hesitate to give us a call at 020-3322-6025. We can help you with the very service that you just need.
For an affordable service that is truly effective and would definitely work well for you, have your small to medium sized jobs be done by our handyman. Our team can take care of all your needs without letting you spend too much.
Customer satisfaction is our topmost priority. If you require us to do a different kind of task, we can customise it just for you. We always want to make things convenient for you.
If you are not sure about the exact service that you need, you can always fill in the form or give us a call at 020-3322-6025. Our staffs are happy to give you advice on that matter.