The handyman that could help you all throughout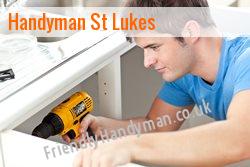 At Friendly Handyman, we can promise you that everything that our handyman does will be carried out at the highest possible standards. You will be secured that you are going to have the best value for money with us.
Your knowledgeable professionals to help you at all times
We are St Lukes's most favourite handyman company EC1 for several years. By being able to constantly provide excellent workmanship, most of our transactions come from repeat customers. Whatever our customers need, we can have it all covered.
What we are most proud of:
Licensed and accredited
Fully insured
Honest pricing
Fully dedicated professionals
Caters emergencies
Guaranteed services
Want to get things done easily? We can certainly help. Contact us at 020-3322-6025 for a quality work done only by our professional handyman.
Offering the best experience there is
We are the very team who can help you maintain an efficient workplace for you and your staffs. Your business transactions can run smoothly while we do the small scale jobs for you. Prompt response is always guaranteed by our handymen.
When you think you can no longer spare time to fix the damages at your place, our handyman is just right here available to be of any help to you. Anything under the heat of the sun is carried out excellently just for you.
Our fine customer service has always been the number one consideration that our people have in choosing us to be their company. We never disappoint our clients. We have always been the best team to serve every household and commercial entity.
Plumbing jobs we can handle:
Fixing Toilet Problems
Fixing leaking taps and pipes
Toilet, Sink or Urinal Unblocking EC1
Installing a Dishwasher or Washing Machine
Bath or Shower Screen Fitting
Towel Rail or Radiator Replacement
Making everything easy for you
Whether you require a simple or a complicated job, our handyman can take care of it just for you. At home, when you have no one to help you, we are just the right team to call. You can let us do anything under the heat of the sun.
The quality work that we provide St Lukes has always been consistent making every job done right the first time. As a professional handyman company, we ensure that we would be able to deliver the widest range of services. This is to help our customers save time in looking for specialists to deal with their repairs and maintenance needs.
Leading you to a better and a more comfortable life with our professional and highly skilled handyman. From simple to a complicated task, our handymen will always give you the satisfaction that you truly deserve.
St Lukes domestic repairs - Call 020-3322-6025.
Jack of all trades East Central London, odd-job man Holders Hill N, N1... Friendly Handyman DIY expert Bloomsbury WC1 Peckham Rye Handyman Handyman in SW5 Lavender Hill SW11 Friendly Handyman Property Maintenance Lee Green Friendly Handyman in Beckenham odd-job man Finchley Central Ponders End EN3 renovation experts Harrow HA2 Local Handyman Handyman in Earlsfield South Hampstead renovation experts Lambeth North SE1 Reliable Handyman IG8 Jack of all trades man of all work Farnborough BR6 NW9 Friendly Handyman odd-job man in TW9 odd-job man Westbourne Green W9.
Whatever you would want us to do, we can always carry it out with quality. You do not need to find other service providers to help you with your needs. With us, all your problems will be fixed in no time.
Have your requirements be assessed by our handyman. Call us at 020-3322-6025 and know the exact service that you need for your specific requirements.
Even if it is a simple job or a complicated one, our handyman can excellently provide services to help you with your needs. It is our topmost priority to give you the best result there is guaranteeing your total satisfaction at all times.
We can guarantee you that when you work with us, you will never experience the disappointments and regrets that you had with your previous handyman. We are all professionals and would always give you the best service. You can always count on us.
We can help you make things better and more convenient for you. Call us at 020-3322-6025 or fill out the form today for your complete satisfaction and a total peace of mind.