The handyman that could help you all throughout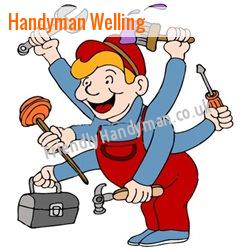 We are Welling's first choice when it comes to handyman services. Every job that you would require can be excellently handled by our multi-skilled handyman. That is why if you wish to make things done perfectly well, choose our team at Friendly Handyman.
Your quick way out to household and office problems
Our experience in this field is truly unmatched. Serving DA16, Welling for many years already, we have proven to its every household that with our skills and experience, they will truly never go wrong. We can make your dreams come true, apart from the mere promises that other typical service providers give.
Few advantages you could have with us:
Caters emergencies
Fully insured
Licensed and accredited
Guaranteed services
Fully dedicated professionals
Honest pricing
We can help you deal with your household and small commercial errands. Call us at 020-3322-6025 for the best service that is second to none.
A total service for your total satisfaction
Maintenance services are usually the ones that most offices need. That is why we do arrange this kind of tasks for you on a regular basis so as to give you more convenience and comfort. Every service we provide is customised to fit your needs.
Our handyman can always give you an assurance that they will never leave your place unless everything is perfectly fixed. We are indeed professional to look up to all your needs and a caring company as well to provide comfort and convenience to you.
After we are done with our work, we will always keep your place clean and tidy. We will never leave any mess that could cause stress on your part. As professionals, we will make sure that we give you what is due to you.
Decorating jobs we offer: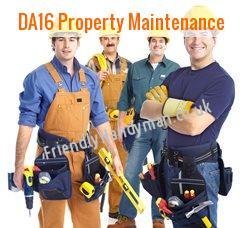 Painting and tiling
Filling cracks and holes
Repairing old grout
Plastering walls and ceilings DA16
Re-sealing
Woodwork painting
Making every promise a reality
Whether you require a simple or a complicated job, our handyman can take care of it just for you. At home, when you have no one to help you, we are just the right team to call. You can let us do anything under the heat of the sun.
Our handyman services offer a complete array of on-site facility maintenance and other services. We take pride for the skills and quality workmanship that we are able to provide Welling all throughout these years. By delivering the right services, no one would certainly have second thoughts of having us to work for them.
Our handymen are unmatched when it comes to quality workmanship. In just a short time, we can help you fix your problems. That is why no one could beat our team most especially in providing complete satisfaction to customers.
Welling DIY expert - Call 020-3322-6025.
Property Maintenance West London, Handymen Engineers Barnet West Finchley N3 minor renovations Reliable Handyman in NW2 West Finchley DIY expert Belvedere DA17 man of all work E5 Property Maintenance in NW4 man of all work IG2 Handymen Engineers Hillingdon Property Maintenance SE22 Streatham Common Jack of all trades Friendly Handyman in Wennington Local Handyman in Queens Road HA0 Handymen Engineers Property Maintenance in TW10 Local Handyman in Upton KT4 man of all work Property Maintenance in RM6 Goodge Street W1 Handyman Embankment Handyman.
We have a team of skilled and knowledgeable handymen who always give their full dedication in helping every household. Our professionals will be there as quickly as possible to take away all your worries instantly.
If you are looking for someone to help you with your small scale jobs, we are just the right team for you. Send us an email or call us at 020-3322-6025 for a specialised kind of service like no other.
Not only that our handymen are fully licensed and insured. They are also guaranteed to be fully equipped at all times to carry out their tasks well. No matter what type of job that you would require, they can surely live up to your expectations.
All jobs are done excellently and professionally. Your concerns are given with high regard giving you a guarantee that every detail will be done accordingly.
Fixing things all by yourself could never be that easy. Call us at 020-3322-6025 or send us an email to get in touch with our handyman. You will never regret working with us.