Travelling anywhere to reach your end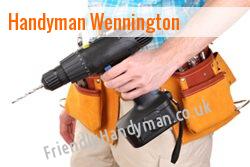 If you are looking for someone to help you deal with simple jobs at home, our handyman at Friendly Handyman could then be the best choice for you. Our skills and knowledge are unparalleled giving you the satisfaction that you need.
The kind of expertise that you cannot find with others
For home repairs and RM13 domestic maintenance needs, we are the very company that you can trust in Wennington. We have the widest range of home repair services which are definitely cost effective for every household. You do not have to call a carpenter, a plumber or an electrician because our handyman can do it all.
Why is it advantageous to choose us?
Friendly staffs
Reliable services
Affordable rates
Quick response
Organised workmanship
Efficient solutions
Our staffs are always ready to be of service to you. Feel free to call us at 020-3322-6025 to find out more about our services and affordable rates.
Taking the stress out of small jobs at home
We are the very team who can help you maintain an efficient workplace for you and your staffs. Your business transactions can run smoothly while we do the small scale jobs for you. Prompt response is always guaranteed by our handymen.
We are a fully licensed and insured company offering quality handyman services in the entire Wennington. With expertise in doing small scale jobs to medium ones, we can guarantee that we will surely satisfy all your needs.
When you need someone you can trust with your errands, our handyman is the very person that you should hire. In no time, all your problems will be solved. We will not cause you any delay but instead be quick and fast in responding to all your needs.
Extending our hand to do the following: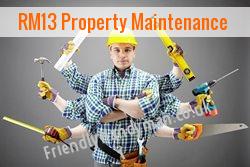 Cleaning
Fitting, fixing and hanging RM13
Electrical
Plumbing
Flooring
Decorating
Perfecting the tasks you require
When you need an instant help with your plumbing and electrical jobs at home, you do not need to call a plumber and an electrician separately. You can have it all done by a handyman. With our professional, you do not have to spend much.
Our tradesmen are not just some typical handyman you could hire in Wennington. All of us are professionally trained to undergo the very services required of us. We strive to keep your business productive by giving you a time-saving solution and at the same time increase the value and image of your business to your market.
If you are worrying too much about your household errands that need to be done right away, we can help you with that. Our handyman can professionally fix your problems and help you with all types of errands at a very affordable price.
Wennington Friendly Handyman - Call 020-3322-6025.
Property Maintenance South London, South Kensington Property Maintenance Local Handyman in Queens Park Handymen Engineers Bexleyheath DA6 Lambeth minor renovations Holland Park W11 Handyman Services EC2 renovation experts minor renovations EC3 Jack of all trades Ruislip Common Local Handyman Handyman North Kensington W10 Handyman Services man of all work Reliable Handyman in Central London N7 Local Handyman man of all work E5 Reliable Handyman North West London NW, NW1... Friendly Handyman in N4 Property Maintenance.
Our 100% focus is on our work. In this way we can ensure that we can give the satisfaction that you deserve through our exceptional workmanship. High quality services are guaranteed at all times.
If you are looking for someone to help you with your small scale jobs, we are just the right team for you. Send us an email or call us at 020-3322-6025 for a specialised kind of service like no other.
Need someone to fix your problem? Our handyman can help you with that. With skills, experience and complete set of tools, you will surely have the complete satisfaction that you always wanted.
In no time, all your problems will be solved. Whether it is a small scale job, we can assure you that you will always experience the satisfaction that you deserve.
If you wish to have a same day service that guarantees your complete satisfaction, give us a call at 020-3322-6025 or send us an email. In no time, all your problems will be solved.