The handyman that could help you all throughout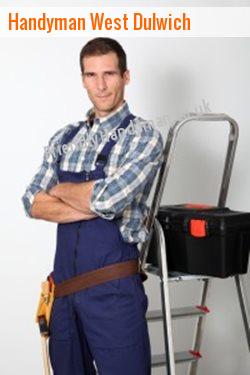 For a 24/7 handyman service, Friendly Handyman is just the right professional to hire. We always make ourselves available for you in order to help you with simple jobs that need to be done with quality skills.
Your round the clock domestic and commercial operatives
For home repairs and SE21 domestic maintenance needs, we are the very company that you can trust in West Dulwich. We have the widest range of home repair services which are definitely cost effective for every household. You do not have to call a carpenter, a plumber or an electrician because our handyman can do it all.
Why we have a growing base of clients?
Wide range of services to offer
No delays
Fully licensed and insured
Satisfaction is always guaranteed
Competitively priced
Highly skilled and knowledgeable handymen
For a quality job on repairs and maintenance, our handyman is the perfect professional to call. Contact us at 020-3322-6025 and get things done instantly.
Experts of anything under the heat of the sun
As much as possible, we carry out our works discreetly without causing you any disruption at all. With our fully licensed and insured handyman, you can always entrust your entire workplace with us.
In no time, we can solve all your household problems as well as the ones you encounter in the offices. Small jobs can be made simple and easy with the skills and expertise that our professional handyman have.
For all your residential and commercial needs, we have the team that you can always rely on and trust. We will promptly respond to all your needs and never keep you waiting. We value your time just the way you value yours.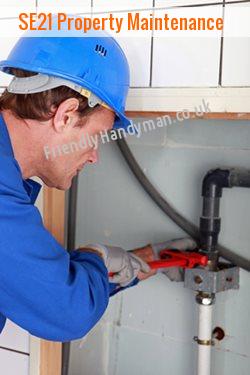 Plumbing services we can specifically cater for you:
Repairing leaks on taps and pipes
Clearing internal waste pipes
Fixing toilet cisterns SE21
Washing machine and dishwasher installation
Replacing radiators
Garden taps installation
The very service you would want to have
When the need on repair and maintenance arises, there is no better team that you can call other than our professional handyman. At home, do not entirely trust on your skills because it will only lead you to disaster. Hire a handyman to ensure everything.
To ensure that you get the best service that satisfies you completely, contact West Dulwich's number one handyman. With us, repairs and maintenance could be done at the highest possible standards without having to spend much. We are the very team you can definitely rely on at all times.
Our handymen are not just available for simple installation and other minor residential and commercial jobs. They are also very adept in doing repairs and maintenance. For your comfort and convenience, we will always make ourselves available 24/7.
West Dulwich Reliable Handyman - Call 020-3322-6025.
Handymen Engineers South London, Stepney Green Jack of all trades Mortlake SW14 Handyman Wandsworth SW18 Reliable Handyman odd-job man Jack of all trades in E14 in SW19 odd-job man Romford Local Handyman Dollis Hill NW2 Friendly Handyman Woodford Bridge DIY expert DIY expert Wandsworth Town SW18.
You rightfully deserve to be treated fairly. That is why we always give what is due to you. High quality services can always be expected. In the same way, we promise to leave your premises clean and tidy after work.
Cannot find the exact service you would like us to do for you? Please do not hesitate to give us a call at 020-3322-6025. We can help you with the very service that you just need.
Need things to be done instantly at a very low price? Our handyman is the perfect solution to your needs. With their adequate skills and knowledge, they can help you get things done for your convenience.
We can guarantee you that when you work with us, you will never experience the disappointments and regrets that you had with your previous handyman. We are all professionals and would always give you the best service. You can always count on us.
Let us help you live more comfortable than ever. We can help you fix your problems. Call us anytime at 020-3322-6025 or send us an email. Our handyman will always be there for your convenience.