Giving you an experience like no other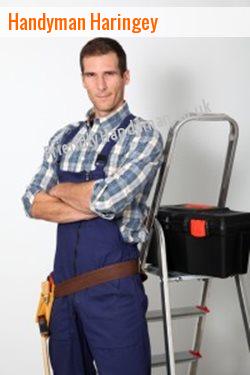 At Friendly Handyman, we can promise you that everything that our handyman does will be carried out at the highest possible standards. You will be secured that you are going to have the best value for money with us.
Who says you can't have everything in just one call?
We deliver quality solutions to every household in Haringey, whether it involves plumbing, electrical or carpentry works. With a highly trained team of handymen N8, all your residential needs will be taken care of professionally. Why look much further?
Why most people choose us?
Satisfaction is always guaranteed
Wide range of services to offer
Highly skilled and knowledgeable handymen
Fully licensed and insured
No delays
Competitively priced
Do not hesitate to call us at 020-3322-6025 to inquire about our handyman services. With our license and insurance, you can always be safe with us.
Repairs and maintenance made easy
All the jobs we do are done in a very unobtrusive manner. We understand how much you value your time and privacy. That is why we can guarantee you that we will finish the job in no time for your satisfaction.
Without the need to spend too much, you can already have the best service there is. Our professional handyman can make all of this possible for you. No matter what job you require from them, they can carry it out perfectly just for you.
We are honest, reliable and very accommodating. You will never have problems dealing with us because we always give our heart to offer you the best service. Our services are always at its highest standard to show you how sincere we are in making you happy.
What we can do for you:
Plumbing
Electrical
Decorating
Cleaning
Fitting, fixing and hanging N8
Flooring
Letting you live better than ever
For an efficient and affordable handyman services, ours are simply the best. No one could ever much the excellence and professionalism that we have given to our domestic customers. You can rely on our team at all times.
Our tradesmen are not just some typical handyman you could hire in Haringey. All of us are professionally trained to undergo the very services required of us. We strive to keep your business productive by giving you a time-saving solution and at the same time increase the value and image of your business to your market.
We do not just assist you on your installation and other minor jobs. We also provide maintenance and repair services for your convenience. With our skilful handyman, you will never have to deal with your problems much longer.
Haringey minor renovations - Call 020-3322-6025.
renovation experts South West London, Friendly Handyman South Tottenham man of all work Warren Street W1 Woodside Park Friendly Handyman Golders Green Local Handyman Property Maintenance Malden Rushett KT9 RM12 N22 Little Ilford minor renovations CR5 Jack of all trades Local Handyman in N4 Reliable Handyman in Enfield Chase Hanger Lane Local Handyman man of all work in Upper Sydenham minor renovations NW4 Reliable Handyman Handyman Services Dartmouth Park N6 renovation experts.
All your concerns will be taken care of as soon as possible. Even if it takes too much work, we will professionally deal with it for your complete satisfaction. We are the very persons you can rely on at all times.
Every job done at Friendly Handyman is always guaranteed 100%. So if you want to have your errands done excellently, give us a call at 020-3322-6025.
For an affordable service that is truly effective and would definitely work well for you, have your small to medium sized jobs be done by our handyman. Our team can take care of all your needs without letting you spend too much.
We can guarantee you that when you work with us, you will never experience the disappointments and regrets that you had with your previous handyman. We are all professionals and would always give you the best service. You can always count on us.
If you wish to have a same day service that guarantees your complete satisfaction, give us a call at 020-3322-6025 or send us an email. In no time, all your problems will be solved.