Highly recognised for all types of work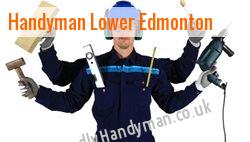 At Friendly Handyman, we can promise you that everything that our handyman does will be carried out at the highest possible standards. You will be secured that you are going to have the best value for money with us.
Your knowledgeable professionals to help you at all times
Our team is the best group of professionals that you can rely on when it comes to home repairs and domestic maintenance needs N9. Whether you require interior or exterior renovations, Lower Edmonton's best is the very company that you can truly rely on.
Benefits in choosing us:
Fully insured
Fully licensed
Reliable team
Always professional
Covers both residential and commercial needs
100% work guaranteed
For a same day service, call us at 020-3322-6025. Our handyman will be at your place to do the jobs you require in no time.
Your one-stop shop for small scale jobs
All types of jobs are professionally carried out by our handymen. Whether you require a simple job or a difficult one, they can always take care of it for you. It is our promise not to cause you any delay.
Whether you need help at home or in any business establishment, we are just the right team who can help you. Our handymen always make sure that everything will be done excellently to provide you with the total satisfaction that you deserve.
It is your satisfaction that keeps us going. Thus in every job that we do, we always ensure that you get the best of what we have to offer. Whatever you require from us, we will handle it excellently for your total satisfaction.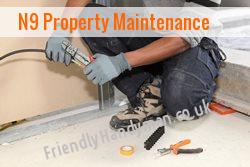 Plumbing services we can specifically cater for you:
Repairing leaks on taps and pipes
Clearing internal waste pipes
Fixing toilet cisterns N9
Washing machine and dishwasher installation
Replacing radiators
Garden taps installation
Beating the traffic for a quick response
You do not have to spend much just to fix things at your homes. For a very reasonable rate, our handyman can take care all of it just for you. You can always rely with our team because their excellent workmanship will never disappoint you.
We are a professional handyman company offering the widest range of services in Lower Edmonton. Our team has a wealth of experience in dealing with all kinds of services required. With consistent quality work that is always done right the first time, you would surely have great satisfaction whenever you get to work with us.
Whether you need help on simple carpentry or decorative painting at your house, our handyman can help you deal with your needs. They can undergo all types of job that you would require them to do giving you a guarantee of complete satisfaction.
Lower Edmonton minor renovations - Call 020-3322-6025.
East Central London, Friendly Handyman renovation experts E8 E13 Jack of all trades Church End NW10 DIY expert NW1 Jack of all trades Strand Property Maintenance DIY expert in Wealdstone DIY expert NW1 Friendly Handyman Finsbury Park Elm Park RM12 Property Maintenance DIY expert in E1 SE12 Property Maintenance Camden Town Property Maintenance N22 Handyman minor renovations in Sydenham Clapton E5 man of all work Handymen Engineers HA5 minor renovations Jack of all trades NW1.
We can always take away the stress in you. After we have accomplished our work, we will then clean your place to keep it as tidy as possible. We take full responsibility of keeping your place organised after every task.
It is our utmost concern to satisfy every need that our customer has. So for an excellent workmanship that handles the job completely, call us today at 020-3322-6025.
Always consider it done when you get to work with our handymen. Their all-around expertise in doing minor jobs for you is certainly one of the best. You will never have to look much further with our professional team of handymen.
With us you can have a different kind of experience that you cannot have with others. Even if you require a difficult job, it is our goal to satisfy you and provide convenience to everybody.
No one serves you better other than our professional team of handymen. Feel free to give us a call at 020-3322-6025 or send us an email to know more about our services.