The perfect team you can trust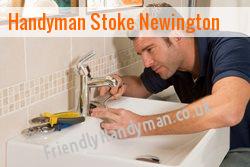 For a 24/7 handyman service, Friendly Handyman is just the right professional to hire. We always make ourselves available for you in order to help you with simple jobs that need to be done with quality skills.
Truly competent to take care of your needs
We understand very well how handling repairs and maintenance could cause you much trouble most especially if you are constrained with time. That is why we are here to help. Offering the widest range of services for all your domestic needs, you do not have to hire multiple specialists just to get things done. In Stoke Newington, we are the most flexible team you can rely on.
Why we are undisputed?
Excellent skills and workmanship
Competitive prices
Several years of experience
Offers services to both domestic and commercial entity
Wide range of services
Customising service just for you
We can help you deal with your household and small commercial errands. Call us at 020-3322-6025 for the best service that is second to none.
Ensuring you get the best out of your money
Arranging tasks on a regular basis works well for most of our commercial customers. They can have everything ensured at your very convenience. Services are customised to suit all your needs.
We are a fully licensed and insured company offering quality handyman services in the entire Stoke Newington. With expertise in doing small scale jobs to medium ones, we can guarantee that we will surely satisfy all your needs.
For all your residential and commercial needs, we have the team that you can always rely on and trust. We will promptly respond to all your needs and never keep you waiting. We value your time just the way you value yours.
Services we are known for: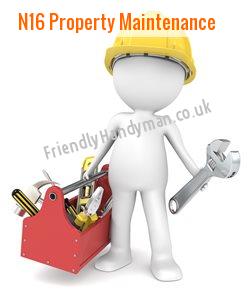 General Home Maintenance N16
Plumbing
Painting and Wall Treatments
Remodelling of Bathrooms
Fences
Decks
Trusting the professionals that are trusted by many
You do not have to spend much just to fix things at your homes. For a very reasonable rate, our handyman can take care all of it just for you. You can always rely with our team because their excellent workmanship will never disappoint you.
Make your stores and establishments aesthetically good to look at. Impress your customers through our excellent quality services. We are here to help Stoke Newington experience a different kind of service that is truly worth the money that they spend for.
We are the perfect team you can have to help you on all your needs. Our handyman can help you on basic carpentry, simple plumbing and electrical works as well as decorative painting and gardening. No matter what you need, we can always give you the best service.
Stoke Newington Handymen Engineers - Call 020-3322-6025.
odd-job man East Central London, Handyman Leyton Marshes Handyman Services in NW4 East London Hoxton N1 renovation experts Richmond Jack of all trades Jack of all trades domestic repairs in HA5 domestic repairs in Loughborough Junction Bromley man of all work renovation experts in Broadgate minor renovations in SW10 Local Handyman Hook renovation experts Mill Hill East Local Handyman W2 odd-job man in SW19 N22 Local Handyman Local Handyman Richmond Park TW10 domestic repairs SW6 renovation experts in Norbury.
No job is too simple or too complex for us to handle. All your requirements will be dealt with professionally. You can always count on us no matter what type of work that you may require from us.
We can help you with jobs that you hate to do. Contact us at 020-3322-6025 today for your queries and concerns.
Need things to be done instantly at a very low price? Our handyman is the perfect solution to your needs. With their adequate skills and knowledge, they can help you get things done for your convenience.
In no time, all your problems will be solved. Whether it is a small scale job, we can assure you that you will always experience the satisfaction that you deserve.
Get in touch with our handyman by simply calling us at 020-3322-6025 or sending us an email. We can help you fix and repair anything at your place.