Dealing with all your needs professionally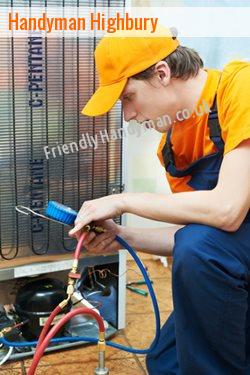 There is always a solution to everyone's problem. By just calling our highly skilled and knowledgeable handyman, all your worries would surely be gone. With our quality services at Friendly Handyman, you will never have to look for other service providers.
First rated services for your total satisfaction
If there is something that needs to be fixed, we are just the very team you can call. You can definitely rely on us because we always do things the right way. Making the customers our first priority, we have truly become Highbury's most favourite handyman company N5. You can never go wrong with us.
Benefits in choosing us:
Fully insured
Fully licensed
Reliable team
Always professional
Covers both residential and commercial needs
100% work guaranteed
For a same day service, call us at 020-3322-6025. Our handyman will be at your place to do the jobs you require in no time.
Taking the stress out of small jobs at home
Not only that we cater services to the residential customers but also to different commercial entities. Quality services are always ensured. With us, you can have the best services only at a very minimum fuss.
Need an immediate help? Our all-around handyman can help surely help you. With their skills and knowledge in basic carpentry, plumbing, electrical and painting, all that needs to be done will surely be taken care of by our professionals.
We always keep our focus on our work in order to ensure good results. In this way, we can guarantee our customers their full satisfaction at all times. With us, our customers will always have the first class services that are second to none.
Making your lives comfortable with the following big jobs we offer: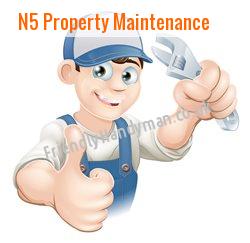 Floor Tiling
Wall Tiling
Built in Shelving
Kitchen Fitting N5
Laminate Flooring
Bi-Folding doors
Offering the best for your peace of mind
If you have no time to do your household chores all by yourself, then we can help you do for your convenience and satisfaction. We understand that you may have a lot of things to worry which is why we offer you our services to make things easier for you.
Our tradesmen are not just some typical handyman you could hire in Highbury. All of us are professionally trained to undergo the very services required of us. We strive to keep your business productive by giving you a time-saving solution and at the same time increase the value and image of your business to your market.
Our handymen are unmatched when it comes to quality workmanship. In just a short time, we can help you fix your problems. That is why no one could beat our team most especially in providing complete satisfaction to customers.
Highbury Friendly Handyman - Call 020-3322-6025.
Jack of all trades London, renovation experts in EN5 Friendly Handyman in N22 Property Maintenance in Greenford Local Handyman Friendly Handyman Hendon NW4 DIY expert man of all work in Blackheath minor renovations in Bushy Park Reliable Handyman W3 Old Kent Road SE1 man of all work.
All your concerns will be taken care of as soon as possible. Even if it takes too much work, we will professionally deal with it for your complete satisfaction. We are the very persons you can rely on at all times.
If you value your time so much, then let us do the job for your very own convenience. Call at 020-3322-6025 today and know more about what we can exactly do for you.
Need someone to fix your problem? Our handyman can help you with that. With skills, experience and complete set of tools, you will surely have the complete satisfaction that you always wanted.
You will never regret working with us because our team are highly skilled, knowledgeable, and very friendly. All your jobs are done at the highest standard giving you the best value for your money.
No one serves you better other than our professional team of handymen. Feel free to give us a call at 020-3322-6025 or send us an email to know more about our services.