Effectively satisfying your needs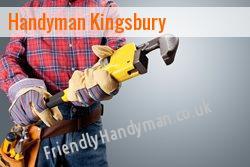 At Friendly Handyman, we can promise you that everything that our handyman does will be carried out at the highest possible standards. You will be secured that you are going to have the best value for money with us.
First rated services for your total satisfaction
We are Kingsbury's most favourite handyman company NW9 for several years. By being able to constantly provide excellent workmanship, most of our transactions come from repeat customers. Whatever our customers need, we can have it all covered.
Why trust your chores with us?
We have a team of highly trained handymen
We are available 24/7
We have a friendly and accommodating team to help you
We can help you save money
We can do all-around services efficiently
We are trusted by many
Let us do the jobs that you can't do. Contact us today at 020-3322-6025 for more inquiries about our wide range of services.
The only team to amaze you at all times
We are the very team who can help you maintain an efficient workplace for you and your staffs. Your business transactions can run smoothly while we do the small scale jobs for you. Prompt response is always guaranteed by our handymen.
For the best service that is sure to give you the satisfaction that you deserve, have your errands done by our professional handyman. With us, all your problems will be gone making life much easier for you and your family.
You might have a very disappointing experience with others. But when you get to work with us, you will never experience the same thing again. All our handymen are honest, reliable and indeed straightforward. It is our promise to satisfy you at all times.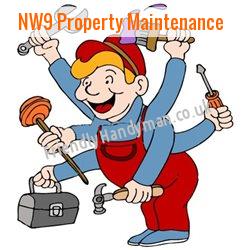 Our excellent services:
Refurbishment
Electrical
Plumbing
Odd jobs NW9
Decorating
PAT Testing
Your reliable small jobs specialists
We are also the very team you can trust when it comes to quality home improvement jobs. Our handyman can help you get the results that you wish at a very affordable price. You can never find a better company other than us.
For a more productive business and a better image build up, we are just the perfect handyman team you can trust to help you with your repairs. With our training, skills and expertise, anything that needs to be done will be taken care of professionally. In Kingsbury, when you speak of high quality service, we are just the very name that would ring a bell.
Our handymen are not just available for simple installation and other minor residential and commercial jobs. They are also very adept in doing repairs and maintenance. For your comfort and convenience, we will always make ourselves available 24/7.
Kingsbury Friendly Handyman - Call 020-3322-6025.
minor renovations London, Property Maintenance DIY expert Property Maintenance Grange Park N21 Local Handyman in NW4 SW11 Handyman Friendly Handyman in W6 odd-job man Worcester Park KT4 Property Maintenance Local Handyman TW7 Handyman Services E15 odd-job man in W11 renovation experts in Holland Park Hounslow Central TW3 NW10 Handymen Engineers Property Maintenance in Marylebone.
Our handyman can deal with all types of work that you require. You do not need to call someone else and suffer the hassle of doing things yourself. With us, you will always have the convenience that you are looking for.
We can help you with jobs that you hate to do. Contact us at 020-3322-6025 today for your queries and concerns.
We are the number one handyman company offering services that takes away the problems of all our customers. Even in just a short notice, we can be there in no time to provide the best service that guarantees satisfaction.
We take pride on the kind of customer service that our staffs provide. With that, more and more customers come to us for a quality service that is second to none.
For a residential or commercial errand that needs to be done instantly, call us right away at 020-3322-6025 or send us an email. Services at its highest standard are always ensured.