People's first choice in town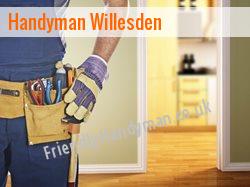 If you want things to get done as quickly as possible, then perhaps you could consider our handyman services at Friendly Handyman. With us, you will surely have the best service there is giving you the very convenience that you just need.
Who says you can't have everything in just one call?
Our experience in this field is truly unmatched. Serving NW10, Willesden for many years already, we have proven to its every household that with our skills and experience, they will truly never go wrong. We can make your dreams come true, apart from the mere promises that other typical service providers give.
What we are most proud of:
Licensed and accredited
Fully insured
Honest pricing
Fully dedicated professionals
Caters emergencies
Guaranteed services
For the best handyman that can get things done right away, call us at 020-3322-6025. You will always be satisfied with our excellent workmanship.
Finest workmanship that satisfies everybody
If you want to have someone to look after the efficiency of your workplace, our handymen are just the perfect team for you. We can assure you that we will be there on time so as not to cause you any delay or distraction to your ordinary business day.
Whether you need help at home or in any business establishment, we are just the right team who can help you. Our handymen always make sure that everything will be done excellently to provide you with the total satisfaction that you deserve.
We value your time so much. That is why we make sure that we do not cause you any delay by starting on time and finishing it on time as well. Everything is done quickly without compromising its quality for your satisfaction.
Services we are known for: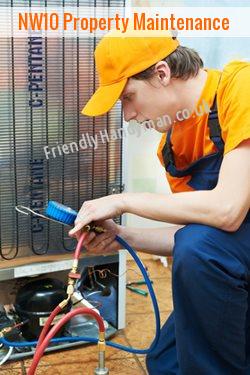 General Home Maintenance NW10
Plumbing
Painting and Wall Treatments
Remodelling of Bathrooms
Fences
Decks
Making every promise a reality
Excellent customer service is always apparent in our every transaction, which is the very reason why we have become the first choice of every household. Professionalism and efficient solutions are always guaranteed by our handymen.
No matter what job you require, we are just the perfect handyman that you could rely on. With us, there is no need for you to require the services of individual specialists because our team is flexible enough to take care of everything. There is no better team to help you in Willesden other than we.
Specialising in repairs and maintenance, our handyman is the best professional you can call at times that you need a helping hand. We understand that doing repairs and maintenance is never easy. That is why we are here to give you the very assistance that you just need.
Willesden Reliable Handyman - Call 020-3322-6025.
Jack of all trades West London, North West London NW, NW1... Local Handyman odd-job man Property Maintenance Welling DA16 Newington man of all work Holland Park W8 minor renovations W1 Handymen Engineers SE9 minor renovations Tooting Bec Handyman Services DIY expert W9 Handyman Harrow Property Maintenance Nine Elms N1 domestic repairs renovation experts in Lower Edmonton Bond Street domestic repairs man of all work Great West Road W4 minor renovations Friendly Handyman Highbury N5 RM12 Handymen Engineers Reliable Handyman in EC2.
You rightfully deserve to be treated fairly. That is why we always give what is due to you. High quality services can always be expected. In the same way, we promise to leave your premises clean and tidy after work.
For a highly skilled and knowledgeable team of handymen, contact us today at 020-3322-6025. Excellence is always given with high regard in every job done.
We are a group of experts specialising in all types of repairs, maintenance and installation. Our handyman is the best that you can have to take care of your problems no matter how simple or complex it could be.
Our team is established only for one purpose and that is to satisfy you. We have been doing quality services to ensure that you will always get the best results from our excellent workmanship.
Keeping you satisfied is our mission. So for a service that can always satisfy you, have it with our reliable handyman. Give us a call at 020-3322-6025 or send us an email for more details.