An all-around service provider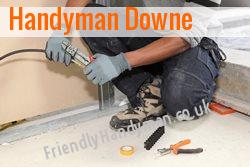 We, at Friendly Handyman, can guarantee you that all our works are carried out professionally leaving no room for you to worry. As a licensed and insured company, we always make sure that everything is done at the highest possible standards.
Keeping things run smoothly for your convenience
We are Downe's most favourite handyman company BR6 for several years. By being able to constantly provide excellent workmanship, most of our transactions come from repeat customers. Whatever our customers need, we can have it all covered.
Few advantages you could have with us:
Caters emergencies
Fully insured
Licensed and accredited
Guaranteed services
Fully dedicated professionals
Honest pricing
Our staffs are always ready to be of service to you. Feel free to call us at 020-3322-6025 to find out more about our services and affordable rates.
Professionally satisfying you all year round
All the jobs we do are done in a very unobtrusive manner. We understand how much you value your time and privacy. That is why we can guarantee you that we will finish the job in no time for your satisfaction.
If you get to work with the right team of professionals, you will surely have the best experience in your entire life. Our handyman can give you a great experience that will surely guarantee your satisfaction at all times.
We are always sincere in doing our work. Our handymen are very honest and reliable. They will never give you worries because everything is under their control. What is left for you to do is enjoy the very results that we provide you.
Extending our hand to do the following: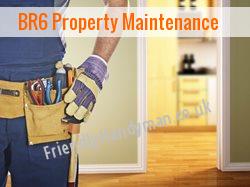 Cleaning
Fitting, fixing and hanging BR6
Electrical
Plumbing
Flooring
Decorating
Widely known for excellent works
When you need an instant help with your plumbing and electrical jobs at home, you do not need to call a plumber and an electrician separately. You can have it all done by a handyman. With our professional, you do not have to spend much.
No matter what job you require, we are just the perfect handyman that you could rely on. With us, there is no need for you to require the services of individual specialists because our team is flexible enough to take care of everything. There is no better team to help you in Downe other than we.
We can take all the worries away from you. With our professional handyman, all your required jobs will be carried out efficiently at a very affordable price. Who says you can't have quality and affordability all at the same time?
Downe Handyman Services - Call 020-3322-6025.
Local Handyman South West London, Handyman Harrow HA2 Jack of all trades Reliable Handyman Handyman Services Canary Wharf E14 domestic repairs Loughborough Junction Highwood Hill N20 Property Maintenance SM5 Handyman HA0 Jack of all trades Eden Park DIY expert W9 minor renovations Jack of all trades in W10 DIY expert Brockley Leyton Local Handyman Lower Place NW10 renovation experts Friendly Handyman Wanstead Park E7 Kensington W8 Handyman Services Royal Oak domestic repairs.
We can customise our services according to the requirements of our clients. Everything we do is entirely made for the purpose of making things easy for our customers as well as satisfying them completely.
Specialising in all types of small jobs, we are just the right team to hire on your simple household errands. Call us at 020-3322-6025 right now to book for our exceptional services.
We are the very company who has the heart to understand the needs of the people and gives a full dedication for our customers' full satisfaction. No matter what you need, our handyman can take care of it just for you.
Time is highly valued by our handymen. That is the very reason why we always promptly respond to all your needs. We know very well that keeping things timely is the key to your satisfaction.
Fixing things all by yourself could never be that easy. Call us at 020-3322-6025 or send us an email to get in touch with our handyman. You will never regret working with us.